FR YU'S 80TH BIRTHDAY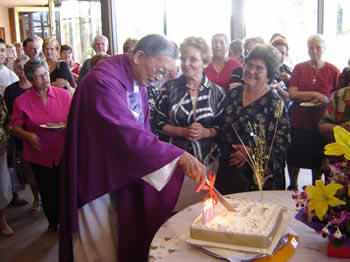 On Thursday 9 March, the parish of St Joseph the Worker gathered to celebrate the 80th birthday of its founding pastor Fr Joseph Yu. It was a great gathering of many old friends for the morning Mass including the children from the school as we gathered to pay tribute and ask God's blessing and protection on Fr Yu for many more years to come.
Later, in a letter published in the parish bulletin, Fr Yu expressed his gratitude and his appreciation for the warm welcome he always receives when he returns to the parish that is his home and to the people he considers his family:
(Extract of letter from bulletin)
A MESSAGE FROM FR JOSEPH YU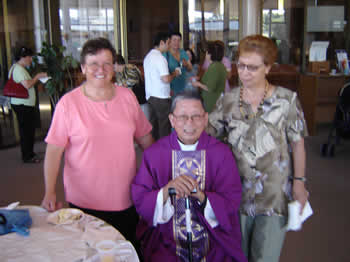 This short note is just to express my sincere thanks to you and to all parishioners for your kindness on the celebration of my 80th birthday which happened on the actual day, 9 March, with a con-celebrated Mass at St Joseph the Worker.
First of all, I should thank almighty God who has been so generous in blessing me to live to this day and to be able to meet so many parishioners after Mass. I always feel that I seem to be at home when I am invited to St Joseph the Worker Parish.
Later I was so honoured and privileged to share a beautiful dinner prepared by Laura with Archbishop Little and Bishop O'Connell in the parish house. It was really a memorable and happy occasion which I enjoyed and appreciated very much. I sincerely thank Fr Max, Fr Burns and all parishioners and friends for your kindness, care and love on the occasion of my 80th birthday. May God bless you all.
Sincerely Yours,
Fr Joseph Yu.