Sr Estelita Manabo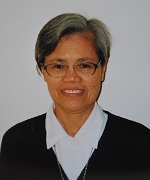 Sister Estelita hails from the Philippines where she joined the Pastorelle Sisters in 1972. Soon after her profession in 1976, she was assigned to work as a Pastoral worker for four years at St. Mary's Thornbury Melbourne. She was then transferred to St. Stephen's East Reservoir working there for five years. After making her final profession in 1986, she was recalled to the Philippines holding various positions in the province.
She was elected as a provincial councilor immediately on her return to the Philippines as the same time being principal of their school with 1,300 children. Other various areas of the Pastorelle ministries in which Sister Estelita got assigned were: serving as Spiritual Directress in the Diocesan Minor Seminary of San Fernando, being engaged in Vocation Work, assigned as liaison officer in Imus Social Action Office, Parish worker at Our Lady of the Holy Rosary Parish and St. Augustine Parish at different times, with involvement in the formation of various ministry groups, and again serving the province as councilor for eight years.
Sister Estelita was enriched by her two years (1991-92) Spirituality Course in Rome after which she engaged in sharing her charism studies to the sisters of the province in various occasions.
Jubilee Year 2000 was a significant year for Sister Estelita for together with another sister, they celebrated their Silver Jubilee of the Religious Profession. These were twenty colourful years of varied experience in her ministries.
Happy to be back in Australia in 2002, she accepted to work as a Pastoral Associate at St. Francis of Assisi Parish, Newtown S.A. where she enjoyed her apostolate for eight years. In February 2011 Sister Estelita started a new chapter in her apostolic journey in the parish of St. Joseph the Worker North Reservoir where she trusts that her involvement in this parish community will be another beautiful experience for her.