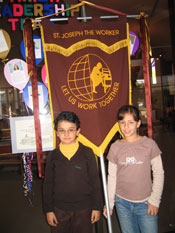 Our Groups:
St Joseph the Worker Primary School
An accepting community working together to inspire:
the proclamation of God's love
the growth of the whole human person
a love of life and learning
unconditional respect for self, others and the world.
As an instrument of the parish, the purpose of the school is to work together with our families in the faith development of the children.
LEARNING, LIFE & FAITH is an enquiry-based approach to Religious Education in which all subjects serve to integrate our knowledge and understanding of the world according to our rich Catholic tradition.
One of the great strengths of the school is its Literacy Program. In 2002, St Joseph the Worker won the national Literacy Award for Excellence.
Staff
Since beginning in 1978, St Joseph the Worker has been blessed with a dedicated and hardworking professional staff. Currently, there are fourteen classroom teachers. There are specialist teachers in the areas of Language Other Than English (LOTE - Italian), Library, The Arts/Physical Education, Reading Recovery and Special Education. In addition, there is a Principal, two Literacy Coordinators (P-4 & 5-6), a full-time and part-time School Secretary and an Integration Aide. Other Positions of Leadership include the roles of Principal, Deputy Principal, Learning, Life and faith Coordinator, Liturgical Coordinator, Mathematics Coordinator, Coordinator of Information Technology, and a school counsellor and Welfare Officer.
The school has had consistently fine leadership in the Principals who who have served with great dedication:
Sr Lorraine Walker MSC (1978 –1981)
Miss Lucy Spano (1981-1989)
Mr Garry McLean (1989 – May 1995)
Ms Noelene Hussey (Acting 1995)
Mrs Ann Crump (1996-2005)
Mr Peter Chowne (2006 – current)